36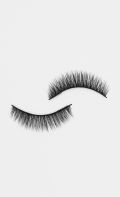 Details
This collection takes inspiration from the beautiful and magnificent palaces around the world.
The palace has architecture like no other in the district. It is the indestructible spirit in her kingdom to inspire awe in the populous. So instead of a common pitched roof, she has pointed towers and gold dome instead, giving it the look of an eccentric crown. 
Indoor she has the most ostentatiously detailed pillars, brilliant intricate carvings on ceiling, and walls painted exquisitely. Just as every powerful woman, she is beautiful inside and out. The palace is a status symbol. It sets her above the rest, and that is where she needed to be-- superior and majestic, with glory and pride intact.
Designed in Malaysia, Made in Dubai, UAE
Product life usage_ Reusable up to 20 times
Band: Classic Black
Shape: Flare
Pattern: Criss-Cross
Length: 6-11 mm
Material: 100% premium silk hair, Cotton band
Direction of use: 
1. Hold the lashes up againts the eye and roughly measure before snipping off the excess length. 
2. Line the base of the lashes with eyelash glue and let dry slightly. 
3. Align the lashes to the base of your own natural eyelashes and apply it directly. Once adhered properly, allow a few minutes for the glue to dry before continuing with the rest of your makeup routine